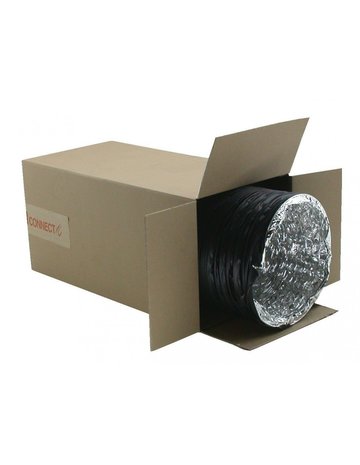 Combiconnect 254mm 10 meter
Combiconnect 254mm 10 meter
This top-quality Combiconnect Ø254mm ventilation duct is a must-have for anyone who demands high performance and durability. Made of durable PVC, this 10-meter long duct has a diameter of 254mm, making it easy to install in a variety of different systems. The duct's PVC outer layer makes it less susceptible to damage while retaining a high level of tensile and bending strength. With both round and oval connections available, it can be easily adapted for use in ventilation systems, machine exhaust, utility, hospitality, or other industrial settings. And with a combiklem for securing the connection, you can have peace of mind knowing your setup is secure. With such high quality at an afford
This top-quality Combiconnect Ø254mm ventilation duct is a must-have for anyone who demands high performance and durability. Made of durable PVC, this 10-meter long duct has a diameter of 254mm, making it easy to install in a variety of different systems. The duct's PVC outer layer makes it less susceptible to damage while retaining a high level of tensile and bending strength. With both round and oval connections available, it can be easily adapted for use in ventilation systems, machine exhaust, utility, hospitality, or other industrial settings. And with a combiklem for securing the connection, you can have peace of mind knowing your setup is secure. With such high quality at an affordable price, add this duct to your cart today!
Versatile and Easy to Install
The Combiconnect ventilation duct is a great choice for anyone who needs a versatile and easy-to-install duct for their ventilation system. The duct's diameter of 254mm is ideal for fitting into different systems, and with both round and oval connection types available, it can be adapted and installed almost anywhere. Additionally, its lightweight and flexible design makes it simple to position throughout complex spaces with ease. You can quickly install the product with the jump ring connection. Whether you are using it in industrial settings or other settings, the Combiconnect duct guarantees unmatched performance.
Durable Material and Safe to Use
Made of durable PVC material, the Combiconnect Ø254mm ventilation duct is strong enough to withstand daily wear and tear. The outer layer of PVC also provides additional protection from minor damages while maintaining its tensile and bending strength. Moreover, the Combiconnect PVC ventilation duct is resistant to corrosion and ultraviolet light, ensuring life-long usability—that too at sustainable prices. As a result, the product's long lifespan ultimately translates into lower maintenance requirements and cost savings over time. Hence, safe, durable, and low maintenance material makes this product highly incumbent among various buyers.
Uniquely Designed for Multipurpose Usage
Multi-purpose use of Combiconnect's ventilation duct makes it an ideal conduit for running ductwork in varied setup areas. Blend it with your ventilation setups; it can stretch through walls, ceilings, raised-platform flooring to draw and transmit air flows quickly and adaptably. Furthermore, its quality is second to none and makes it suitable for use in a variety of same temperatures applications such as HVAC vents, dryer machines, welding booths, plenum, and so forth. Experience effortless functionality at your worksite with one exclusive Combiconnect Ø254mm ventilation duct diameter
Brand: Combiconnect
Material: PVC
Diameter: 254mm
Connection types: round and oval
Show full description
Show less
Deliverytime

Combiconnect
Combiconnect 254mm 10 meter
This top-quality Combiconnect Ø254mm ventilation duct is a must-have for anyone who dema
This top-quality Combiconnect Ø254mm ventilation duct is a must-have for anyone who dema