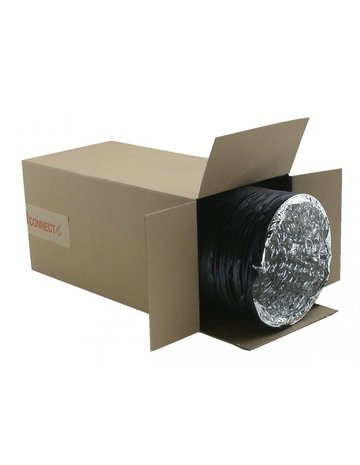 Combiconnect 127mm 10 meter
Combiconnect 127mm 10 meter
Introducing the high-quality Combiconnect Ø127mm ventilationslang – a durable and reliable slangleiding for industrial applications, as well as mechanical ventilation systems and machine extraction. Made with a reinforced PVC coating, this flexible and strong hose is less susceptible to damage, able to withstand high tension and bending while maintaining its performance in various work conditions. Its easy-to-install feature makes the hose perfect for both round and oval connections with an option to cut down the length manually without expensive equipment. To ensure stable connections, special clamp rings are provided to securing connected ends. Whether you're a professional or a DIY ent
Introducing the high-quality Combiconnect Ø127mm ventilationslang – a durable and reliable slangleiding for industrial applications, as well as mechanical ventilation systems and machine extraction. Made with a reinforced PVC coating, this flexible and strong hose is less susceptible to damage, able to withstand high tension and bending while maintaining its performance in various work conditions. Its easy-to-install feature makes the hose perfect for both round and oval connections with an option to cut down the length manually without expensive equipment. To ensure stable connections, special clamp rings are provided to securing connected ends. Whether you're a professional or a DIY enthusiast, trust this top-notch product that guarantees effective and efficient ventilation.
High Quality and Durability
The Combiconnect ventilationslang is made with high-quality materials, ensuring long-lasting durability. The reinforced PVC coating makes it resistant to tears, punctures, and other forms of damage, making it the perfect slangleiding for industrial use. Durability translates to longevity, mandating minimal replacements,; thereby providing good value for your money.The structural composition what this means is that the hose lasts longer, does its job in more conditions and provokes less potential buyers anxieties over its maintenance and dependency.
Flexibility and Easy Installation
The Combiconnect ventilationslang is flexible yet strong. Users will not have to worry about its continued efficiency because it retains connector ends situated on both sides due to its flexibility. The flexibility at which the anti-static flex-hose factor means it can fit comfortably into tight angles that standard ductwork struggles with. Additionally, its easy installation features require no fancy equipment, installation experience or technical skill set but a gentle quick knife cut leaving precise measurements.. This feature makes it perfect in emergency replacement situations, dragging costs drastically down for companies, is a huge advantage.
Wide range in Application __
The Combiconnec ventilationsang's high-performance technique of combustion is achieved keeping material stability to help compensate polluted air in enclosed chemical tanks, factories. Among applications aimed above, the technical specs better support round and oval shapes causing versatility in application. Overall, the slangleiding's unique appearance only deceives its indoor uses which strictly select around but disobeys any rule limiting outside location preferences. Waterproof PVC coating (1819 MPA Minimum breaking of surfaces) protects it from influencing outdoor environmental conditions while work happens. Mechanical Ventilation System and machine extraction are to name some industries Combinconnect product provide solutions for.
Brand: Combiconnect
Material: PVC
Diameter: Ø127mm
Length: 10 meters
Show full description
Show less
Deliverytime

Combiconnect
Combiconnect 127mm 10 meter
Introducing the high-quality Combiconnect Ø127mm ventilationslang – a durable and reli
Introducing the high-quality Combiconnect Ø127mm ventilationslang – a durable and reli