33% sale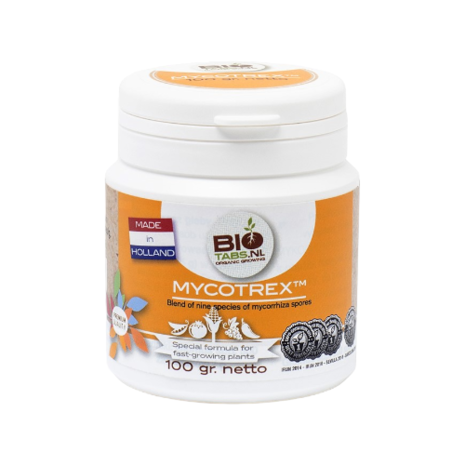 Biotabs Mycotrex 100 gram
Biotabs Mycotrex 100 gram
Biotabs Mycotrex is the perfect plant nutrient solution for any gardener looking to achieve healthy and vibrant growth in their plants. This 100 gram package contains a special blend of natural ingredients, with a focus on mycorrhizal fungi, that help to energize and protect plants. The special blend of ingredients in Biotabs Mycotrex can help promote better yields and stronger root systems, while also increasing the ability of your plants to absorb nutrients. Achieve Maximum Plant Health with Biotabs Mycotrex Growers can trust that their plants are getting the nutrients they need with Biotabs Mycotrex. This natural plant nutrient solution contains a powerful blend of mycorrhizal fungi, whi
Biotabs Mycotrex is the perfect plant nutrient solution for any gardener looking to achieve healthy and vibrant growth in their plants. This 100 gram package contains a special blend of natural ingredients, with a focus on mycorrhizal fungi, that help to energize and protect plants. The special blend of ingredients in Biotabs Mycotrex can help promote better yields and stronger root systems, while also increasing the ability of your plants to absorb nutrients.
Achieve Maximum Plant Health with Biotabs Mycotrex
Growers can trust that their plants are getting the nutrients they need with Biotabs Mycotrex. This natural plant nutrient solution contains a powerful blend of mycorrhizal fungi, which can help increase the plant's ability to absorb essential nutrients for healthy growth. With Biotabs Mycotrex, your plants will receive the energy and protection they need for maximum plant health. Get your plants the nutrients they need and watch them thrive with Biotabs Mycotrex.
Show full description
Show less
Product specifications
Brand

EAN

6013829095045

Biological:

Yes

For substrate:

Cocos

Suitable for:

Growth

Suitable for:

Flowering phase
Deliverytime

Biotabs
Biotabs Mycotrex 100 gram
• Brand: Biotabs
• Content: 100 gram
• Brand: Biotabs
• Content: 100 gram