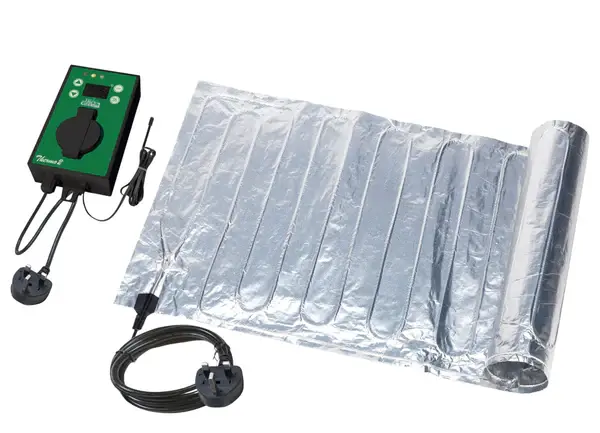 BioGreen Verwarmingsmat 50x120cm
BioGreen Verwarmingsmat 50x120cm
The BioGreen Aluminium Verwarmingsmat is a must-have for every grower to warm up their pots or growing space. It comes with a protective layer of aluminum, ensuring efficient and even heat distribution, and teflon coating to prevent hotspots. Additionally, it comes in various sizes suitable for all kinds of growing spaces. The best part about this product is that it always comes with its thermosat, making it exceptionally easy for one to regulate temperatures according to individual preferences. Moreover, BioGreen offers a fantastic three-year warranty, giving you peace of mind while using the product. With a consumption of 80 Watts in a growing spectrum, let this heating mat enhance your ha
The BioGreen Aluminium Verwarmingsmat is a must-have for every grower to warm up their pots or growing space. It comes with a protective layer of aluminum, ensuring efficient and even heat distribution, and teflon coating to prevent hotspots. Additionally, it comes in various sizes suitable for all kinds of growing spaces. The best part about this product is that it always comes with its thermosat, making it exceptionally easy for one to regulate temperatures according to individual preferences. Moreover, BioGreen offers a fantastic three-year warranty, giving you peace of mind while using the product. With a consumption of 80 Watts in a growing spectrum, let this heating mat enhance your harvest.
Efficient and Even Heat Distribution
With the BioGreen Aluminium Verwarmingsmat, you can enjoy efficient and even heat distribution, thanks to its protective layer of aluminum. The aluminum layer ensures that heat spreads evenly through the pot or growing space, facilitating healthy growth of your plants. Uneven heating in your grow space can lead to stunted growth, and this product addresses this issue by providing heat where it's most needed. With an Aluminum protected heating mat from BioGreen, you're guaranteed better yields every time.
Prevent Hotspots with Teflon Coating
Another fantastic benefit of the BioGreen Heating mat is the teflon coating, which helps prevent hotspots. Hotspots can kill or damage tender plants - especially during the germination stage - thereby frustrating every grower's efforts. You can place this heating mat worry-free about cranky temperatures, as the teflon barrier ensures there's never excessive build-up of heat on any particular spot. Enjoy growing your plants with quality, robust heating, that's gentle on younger, vulnerable vegetables & herbs with this product from BioGreen.
Versatile Product for All Growing Spaces
BioGreen Aluminum Heating Mat adapts beautifully across growing operations. It comes in different sizes suitable for all kinds of potting needs and spaces, allowing for easy installation inside grow tents, greenhouses, indoor pots, and much more. This versatile product reduces dependence on individual stores and brings total freedom for planting anywhere from small balconies to large commercial ventures. It's effortless to modify and adjust depending on what suits your vitality-dependent plants, along with being ideal for starting seeds, blooming flowers, and indoor accelerators.
Easy Temperature Regulation with Included Thermostat
Temperature regulation plays a crucial role in indoor farming's quality, and this product contributes with its built-in thermostat—never worry about using inconsistent heat sources or temperature cycles while facilitating growth. By unique individuals looking for custom settings, it thoroughly accommodates extreme farmers seeking max yields in short time periods or medicinally young herbs that demand valuable conditions, enabling excellent results every step of the way. Each BioGreen Aluminum Heating Mat comes with these features pre-built-in, saving you the hassle of configuration and settings on your own.
Long Warranty
The BioGreen Aluminium Verwarmingsmat Trust becomes meaningful since biomedical merchandises depend on our products into commissioning their average symptoms within any deficient 30-month duration., Our product hence allows them to promote direct, personal cautions, typically terminating us of strong calamities that arise thereof grow lighting, balance factors, environments unstable leading to plant performance faults or death. Bio-Green offers a three-year warranty - where grow facilities can rely on seamless performance yielding guaranteed heights regardless of climate conditions in plants' temporary-home tents. The high-quality hotplate lasts long to be affordable too as a cheap mat with various potential health hazards is foolish. BioGreen based one combines both peace of mind and convenience all alongside this thermal product.
Brand: BioGreen
Consumption: 80 Watts
Space: 120 x 30 cm
Spectrum: Growth
Show full description
Show less
Deliverytime

Biogreen
BioGreen Verwarmingsmat 50x120cm
The BioGreen Aluminium Verwarmingsmat is a must-have for every grower to warm up their po
The BioGreen Aluminium Verwarmingsmat is a must-have for every grower to warm up their po