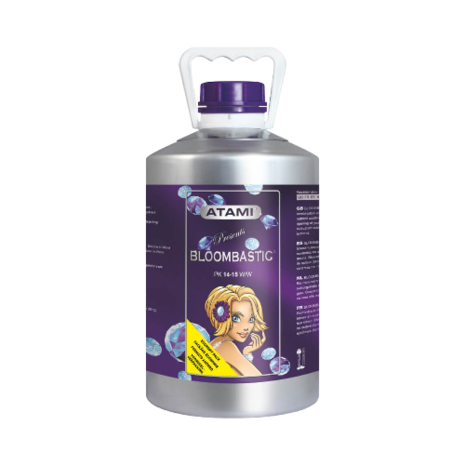 Atami Bloombastic 10ltr
Atami Bloombastic 10ltr
Get ready for a significant boost in the growth of your plants with Atami Bloombastic – the revolutionary blend of bio-minerals and bio-stimulators specially designed for the final phase of flowering and ripening. With Atami Bloombastic, you can make sure that your plants reach their full potential, resulting in incredibly hefty crops with a delicious aroma. Unlike other liquid feed products in the market, Atami Bloombastic is entirely free of harmful additives. Thanks to 50% more efficient bloom stimulators and higher levels of bio-minerals, you can watch your plants thrive, rejuvenate, and become more stress-resistant than ever before. Invest in Atami Bloombastic and treat your plants to
Get ready for a significant boost in the growth of your plants with Atami Bloombastic – the revolutionary blend of bio-minerals and bio-stimulators specially designed for the final phase of flowering and ripening. With Atami Bloombastic, you can make sure that your plants reach their full potential, resulting in incredibly hefty crops with a delicious aroma. Unlike other liquid feed products in the market, Atami Bloombastic is entirely free of harmful additives. Thanks to 50% more efficient bloom stimulators and higher levels of bio-minerals, you can watch your plants thrive, rejuvenate, and become more stress-resistant than ever before. Invest in Atami Bloombastic and treat your plants to nothing but the best possible feeding during their bloom cycle!
Healthy Growth Boost
Atami Bloombastic is the ultimate solution to get those excellent heavy flowers and healthy full crops. It is a winning blend of bio-minerals, natural ingredients, and biological stimulants, which ensure the provision of plenty of nutrients to your crop in its vital growth phases. The high concentration of magnesium and phosphorus significantly impacts the freshness of your plants, contributing towards healthy leaf growth. It maximizes the nutrition absorption by plants, helps develop sturdy stems, results in lush foliage growth, and triggers healthy flower sets while fortifying plant cells resistant to pests. All these benefits combined produces visible growth in terms of weight and height through flourishing climaxing buds, leading to stronger root development giving bloom-laden cannabis plants.
High Level of Efficiency
The Atami Bloombastic formula comes with 50% more active bionutrients that mainly trigger robust growth, using active flowering compounds within its exhaustive micronutrient profile. This higher mobility stimulates efficient nutrition uptake, accelerates root metabolism leading to increased cellular-level production, creating blooms that appear bloated with added size and weight while altering qualities like flavor & firmness. While other supplements are concentrated solely on compound synthesis, Atami recognizes the significance of combining proprietary blends with powerful co-factors, increasing growth rates with medicinal-strength benefits beyond bloom stage stimulation.
Safe and Free of Harmful Ballast Stoffen
With Atami Bloombastic, you no longer have to worry about harmful residues associating with the yield and after-taste of your produce. All components of this stress-relieving nutritional supplement work together simultaneously as they accentuate healthy floral maturation, systematically extracting flavonoids, terpenes, aromatic oils and flavor optimization by determining the symmetry between oil Concentration and Cannabinoid amounts that result in a harmonized digestion response reducing waste and stress plant-wide. This bloeistimulator has capabilities resurfaced by the inclusion of unique B-Factors - containing organic resistive capabilities responsible for flame damage immune strains that enforce harvest schedules beyond industry standards. It generates healthy, larger yields of flavorful crops by inserting energy inside plants to triumph over climate variations, turning chemical emergencies into guarded pathogen buffer biologic units for optimal growth maintenance with little to no maintenance.
Brand: Atami
Type: Bloei- en Afrijpingsstimulator
Inhoud: 10 liter
Geen schadelijke ballaststoffen
Show full description
Show less
Deliverytime

Atami
Atami Bloombastic 10ltr
Get ready for a significant boost in the growth of your plants with Atami Bloombastic –
Get ready for a significant boost in the growth of your plants with Atami Bloombastic –